Getting back in shape, improving on technical points of outdoor cycling, losing weight, having fun and letting off steam – there are plenty of reasons to get into indoor cycling! Find out how to choose your indoor bike and get started under the best conditions with 2 complete training programmes.
5 Reasons to Choose a Stationary Bike for Exercise at Home?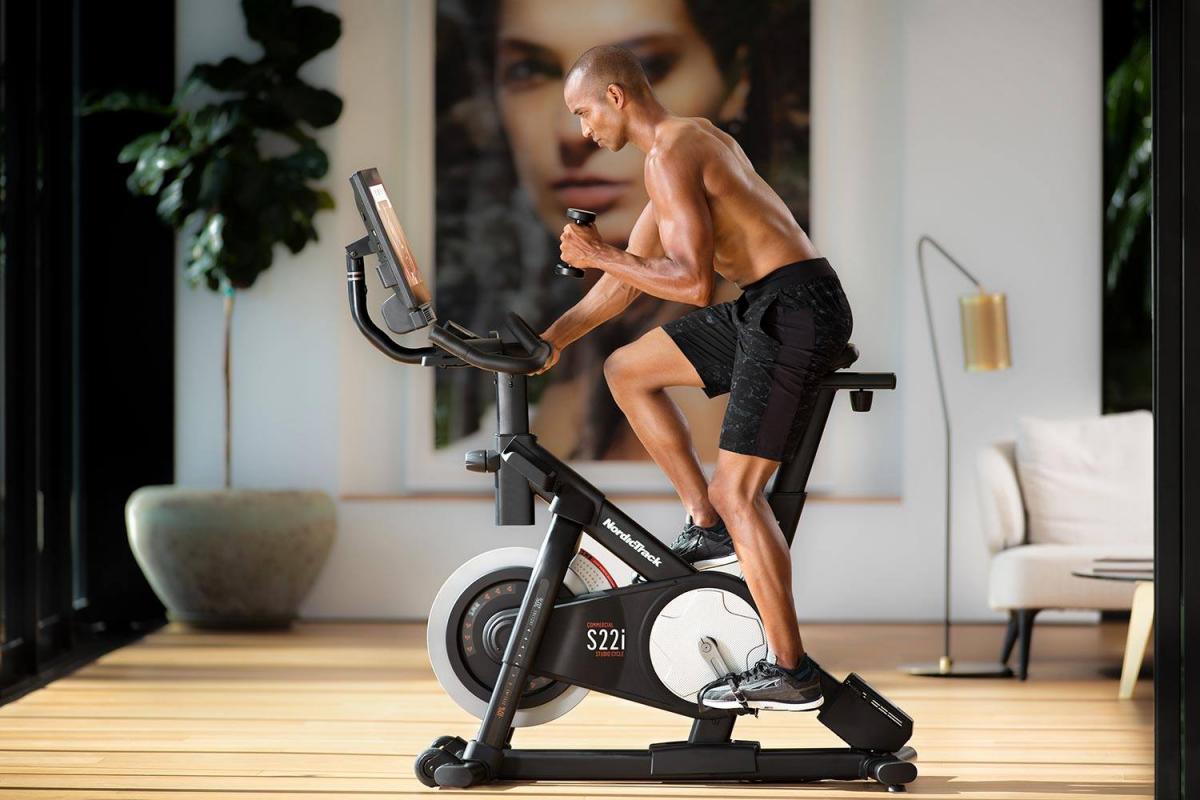 Indoor cycling is very versatile and has many benefits. Here are 5 reasons to equip yourself and include this discipline in your training routine:
Improve your cardio at your own pace with this endurance sport accessible to all.
Save time by taking advantage of the benefits of cycling with equipment available at home at all times.
Protect your joints and avoid injuries thanks to a low impact sport that is gentle on the body.
Set up a regular training programme and progress faster without depending on the weather or the use of a gym.
Have fun and challenge yourself with immersive virtual coaching and continuous monitoring of your progress and performance.
Whether you are a beginner or a seasoned athlete, an outdoor cyclist or not, having an exercise bike allows you to get results quickly, whatever your objectives:
Getting back into shape
Weight loss
Muscle strengthening
Physical preparation for an event
Development of specific skills such as improving velocity, strength, power…
Etc.
How to Choose the Right Stationary Bike?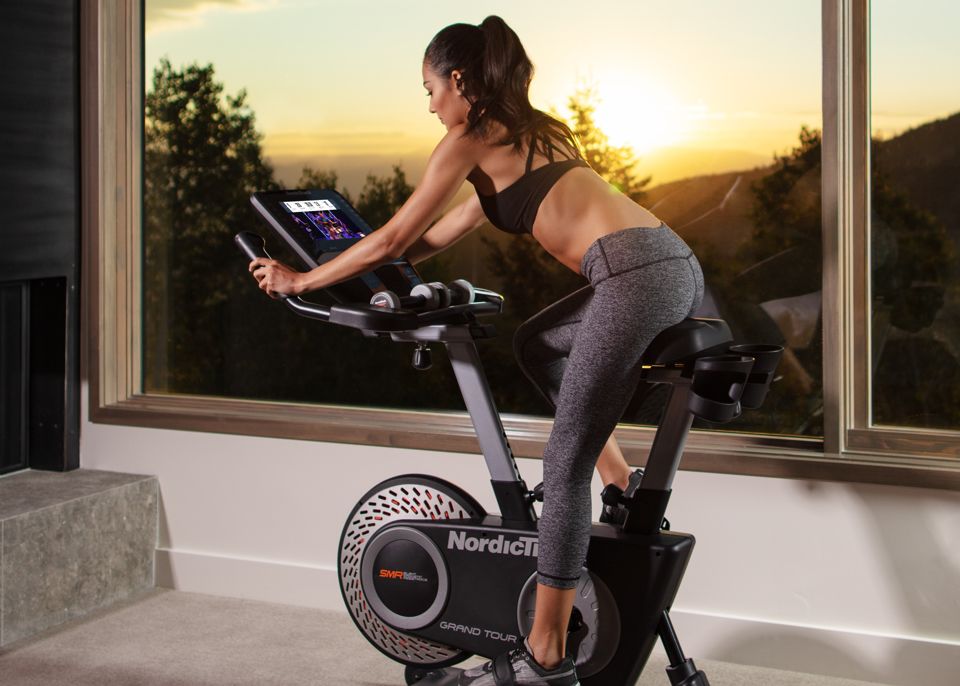 Have you decided to equip yourself with an indoor bike? Take these few features into account when choosing your home bike from the wide range of models on the market:
The weight of the flywheel
The number of resistance levels
Engine power
Equipment connectivity: Wi-Fi, Bluetooth, etc.
Dimensions, weight and the possibility of folding the device
Fine adjustments and ergonomics
Etc.
NordicTrack offers several ranges of premium stationary bikes. Choose your indoor bike according to your priorities:
The Commercial Studio Cycles series: treat yourself to gym-style home fitness equipment and take group classes on an interactive touch screen from your living room with iFit® coaching.
The Classic series includes NordicTrack's must-have home bikes. Make no compromise between design and performance and get results quickly.
Go for comfort with a semi-recumbent bike from the Recumbent range.
Boost your cardio workouts and burn maximum calories while having fun with a Biking cycle or a Grand Tour Pro bike.
Save space and be efficient with Commercial VU bikes, whose vertical design is suitable for the most confined spaces.
Home Training: 2 Indoor Cycling Programmes to Get Started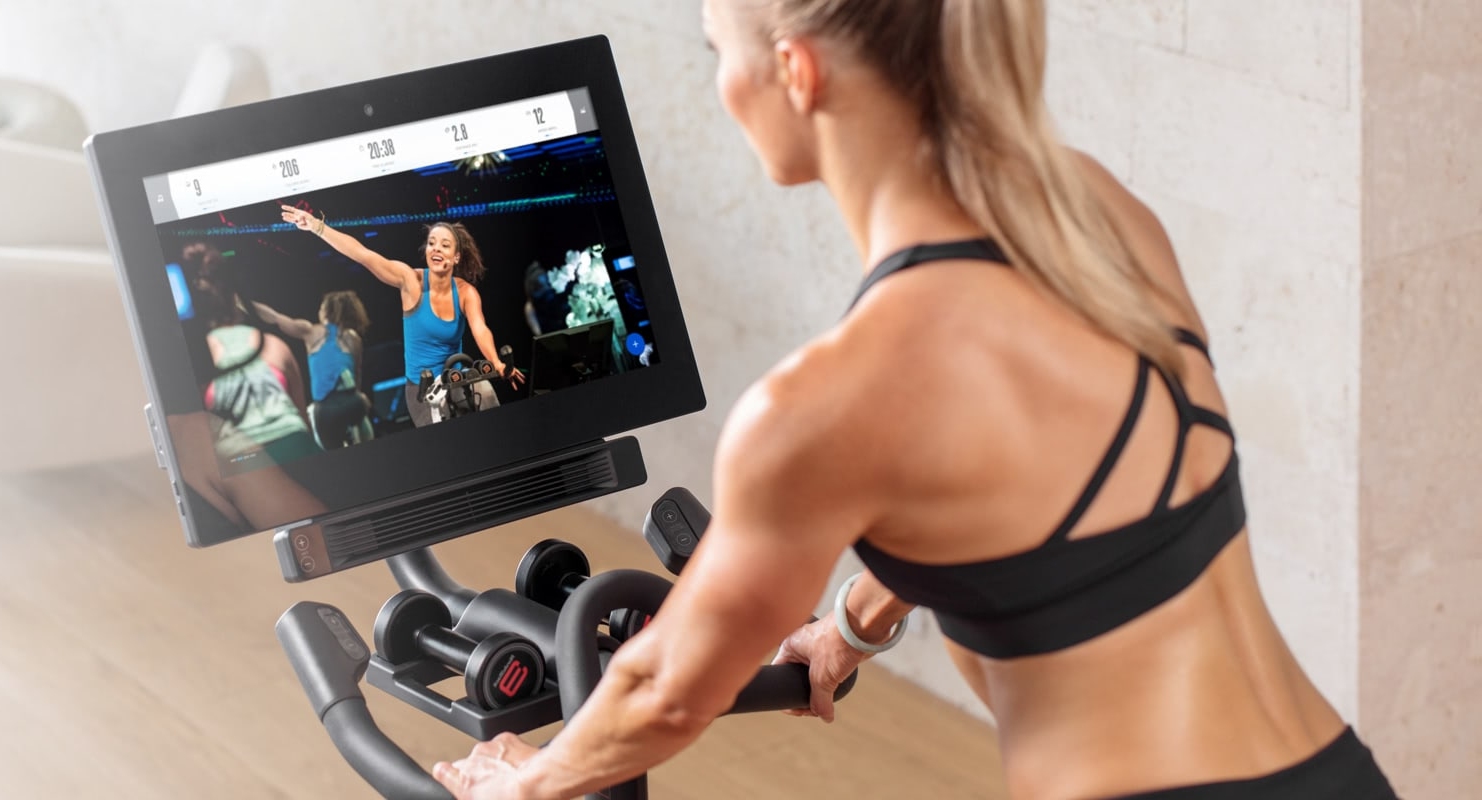 Have you chosen your indoor bike model? After adjusting the saddle and handlebars, it's time to set up a targeted programme to test your new equipment. We offer you 2 examples of complete training sessions on an indoor bike to get you off to a good start:
Weight loss session: Warm up by pedalling for 5 to 10 minutes at a slow, then moderate intensity. For the first 25 minutes, pedal at medium resistance and a steady pace until you feel a slight feeling of exertion. Then increase the pace and work in intervals for 15 minutes: alternate 1 minute of intense pedalling with 30 seconds of active recovery. Reserve the last 5 to 10 minutes for a gradual return to calm.
Endurance session: plan 5 to 10 minutes of warm-up, gradually reaching a moderate pace that you can sustain for a long time. Pedal at a constant speed for 45 minutes. During the last 10 minutes, recover by gradually returning to a slower pace.
Take control of your home bike with ease by following the indoor cycling sessions offered on iFit®: for example, try out the 30-day programme for a fresh start on your bike and experience amazing sensations, similar to those of cycling on the road, without leaving your home. During training, the ups and downs are automatically set on your NordicTrack bike, as is the pedal resistance.
Check out our Fitness equipment & Coaching page for more advice.